Celebrating Our Past Events: Unlocking Opportunities and Achieving Success Together!
Our Events Focus on Amplifying Your Brand, Sustainability, Small Business Networking and Educational Workshops. We Offer A Variety of Experiences for Entrepreneurs to Inspire them to Actualize Their Vision. Our Events Include Panel Discussions and Informative Workshops On Building an Online Presence, Starting a Business from Scratch, Establishing a Sustainable Workflow or Taking Control of Finances. We Also Host After-Hours Networking Sessions Where You Can Forge Valuable Connections with Other Industry Leaders or Talented Professionals From Different Fields. Regardless Of Your Needs, Our Events Will Help You Get Started On Achieving Your Goals.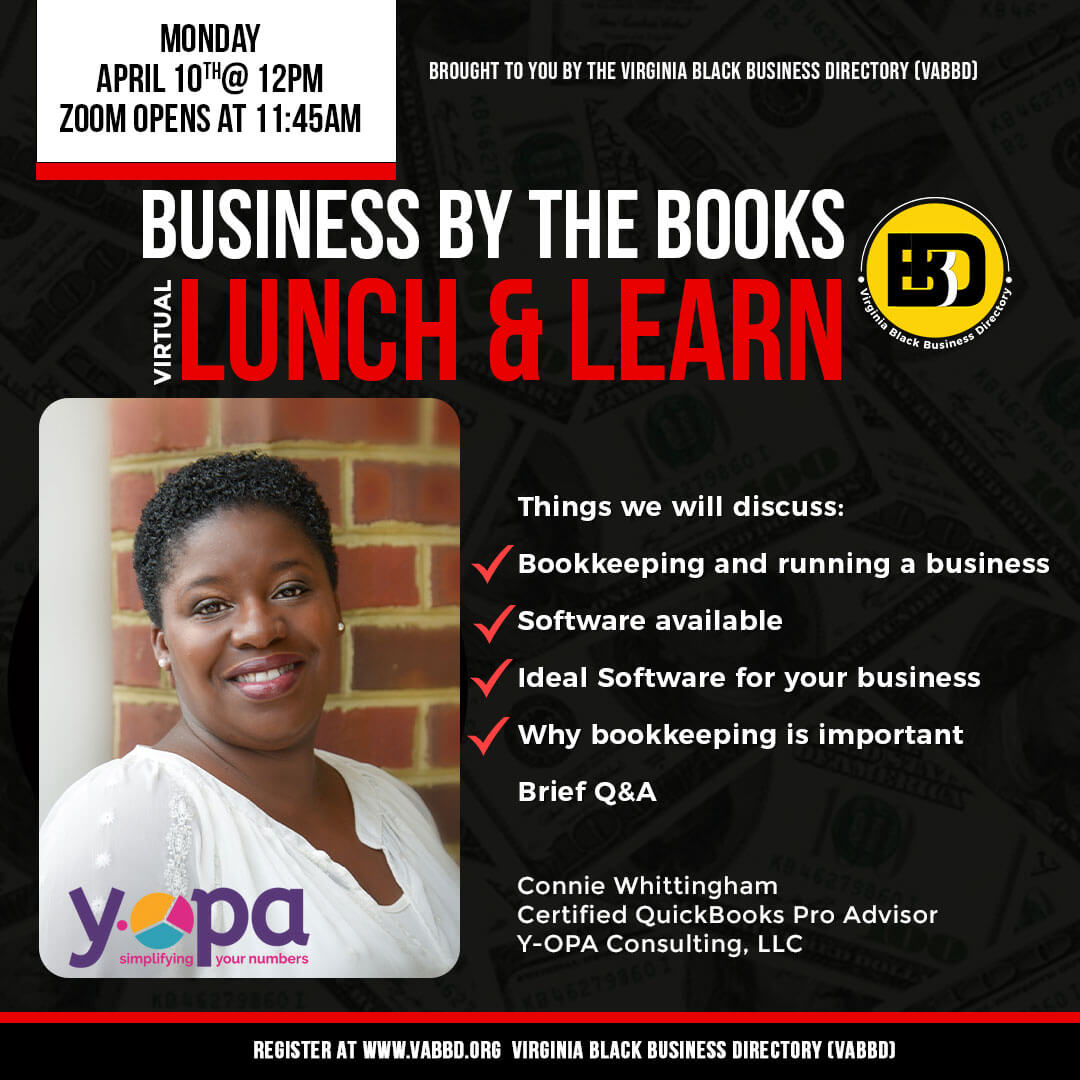 What does every business owner need to know about bookkeeping, software and why it's important?
Things we discussed:
Bookkeeping and running a business
Software available
Ideal Software for your business
Why bookkeeping is important
Brief Q&A
Power Point presentation with audience participation
Presented by Connie Whittingham
Certified QuickBooks Pro AdvisorY-OPA Consulting, LLC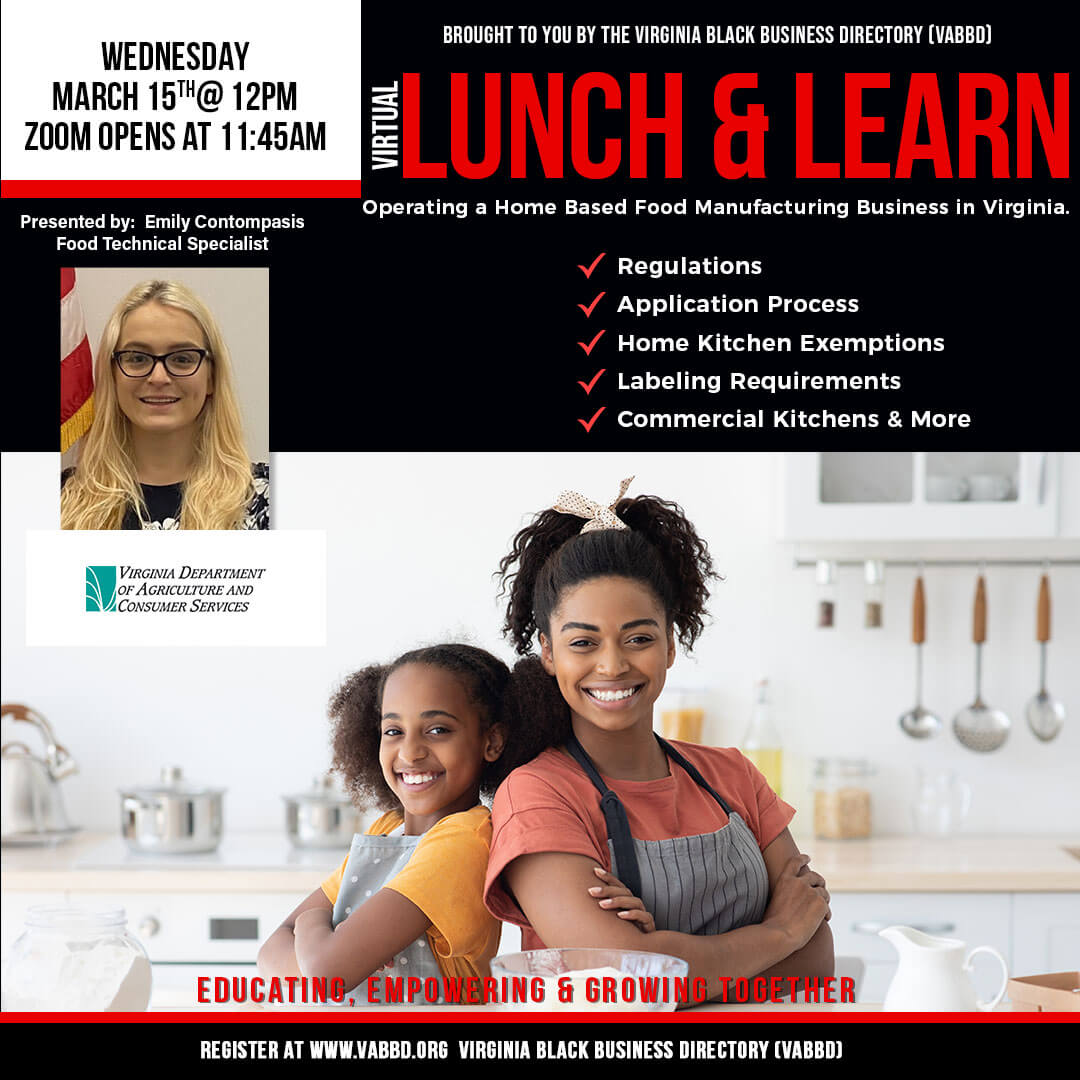 Lunch & Learn: Amplifying Your Home Based Food Service Business
We Discovered the Essentials for Elevating Your Business: Regulations, Applications, Exemptions, Labeling Requirements and More!
Our Special Guest Was Emily, VDACS Food Technical Specialist for the Central Region. She Had All the Advice Needed to Take Your Culinary Dreams up a Notch - From Inspections to Application Processes, Home Kitchen Exemptions and Labeling Requirements.
Emily Shared an Informative Presentation on Operating a Home-based Food Manufacturing Business in Virginia. Although Intended for Home-based Processors, Much of the Information Is Also Relevant for Commercial Kitchens and Stand-Alone Manufacturers. Don't Miss Out on this Opportunity to Join Us - Secure Your Spot Today!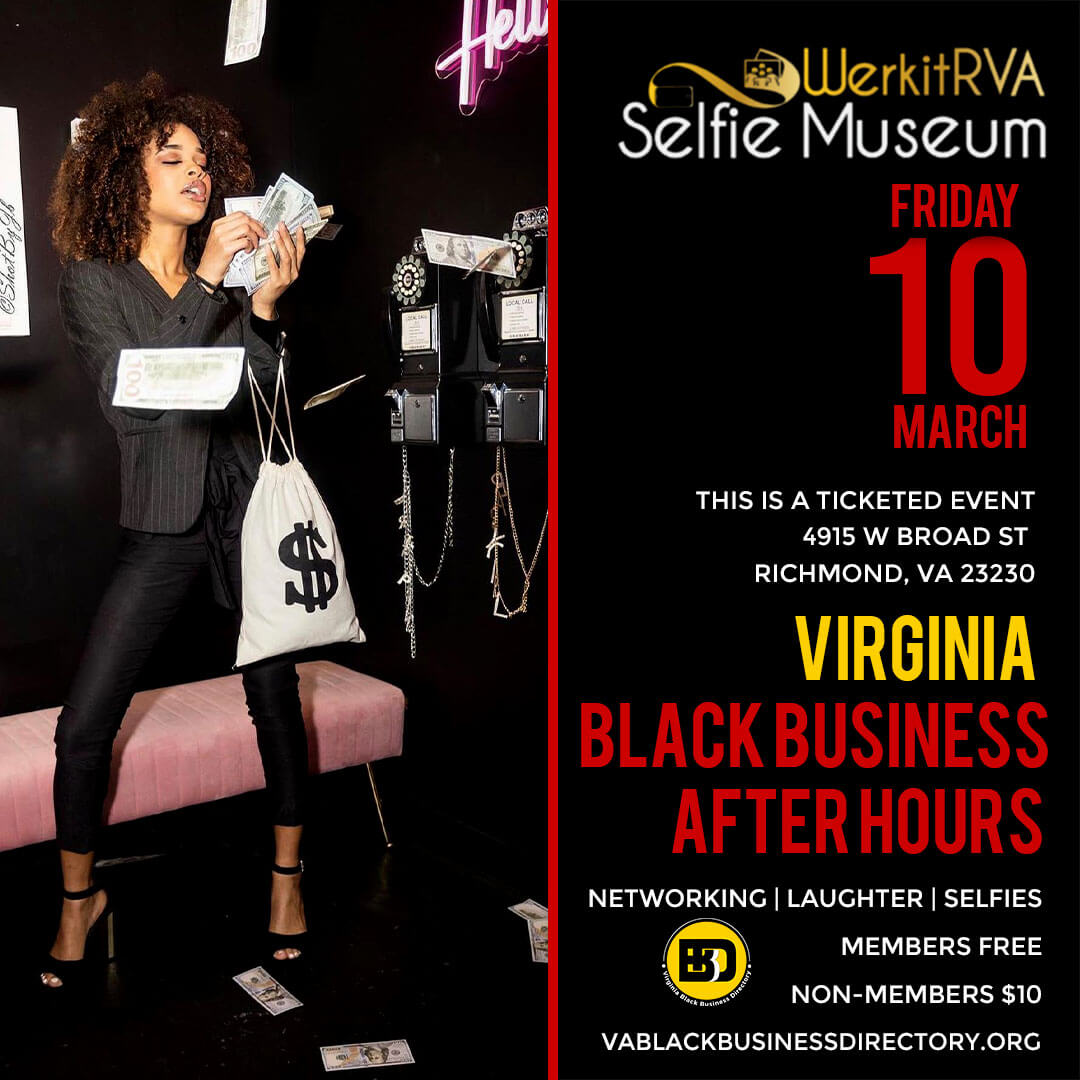 Building Meaningful Relationships
The Importance of Small Business Networking Was Clear: Don't Miss Out on Unique Opportunities to Create Lasting Connections!
We Got Connected With the Virginia Black Business Directory for Networking Opportunities and Created Meaningful Relationships! We Captured Memories at the Selfie Museum, Allowing Us to Snap Fun Pics While Engaging in Great Conversations.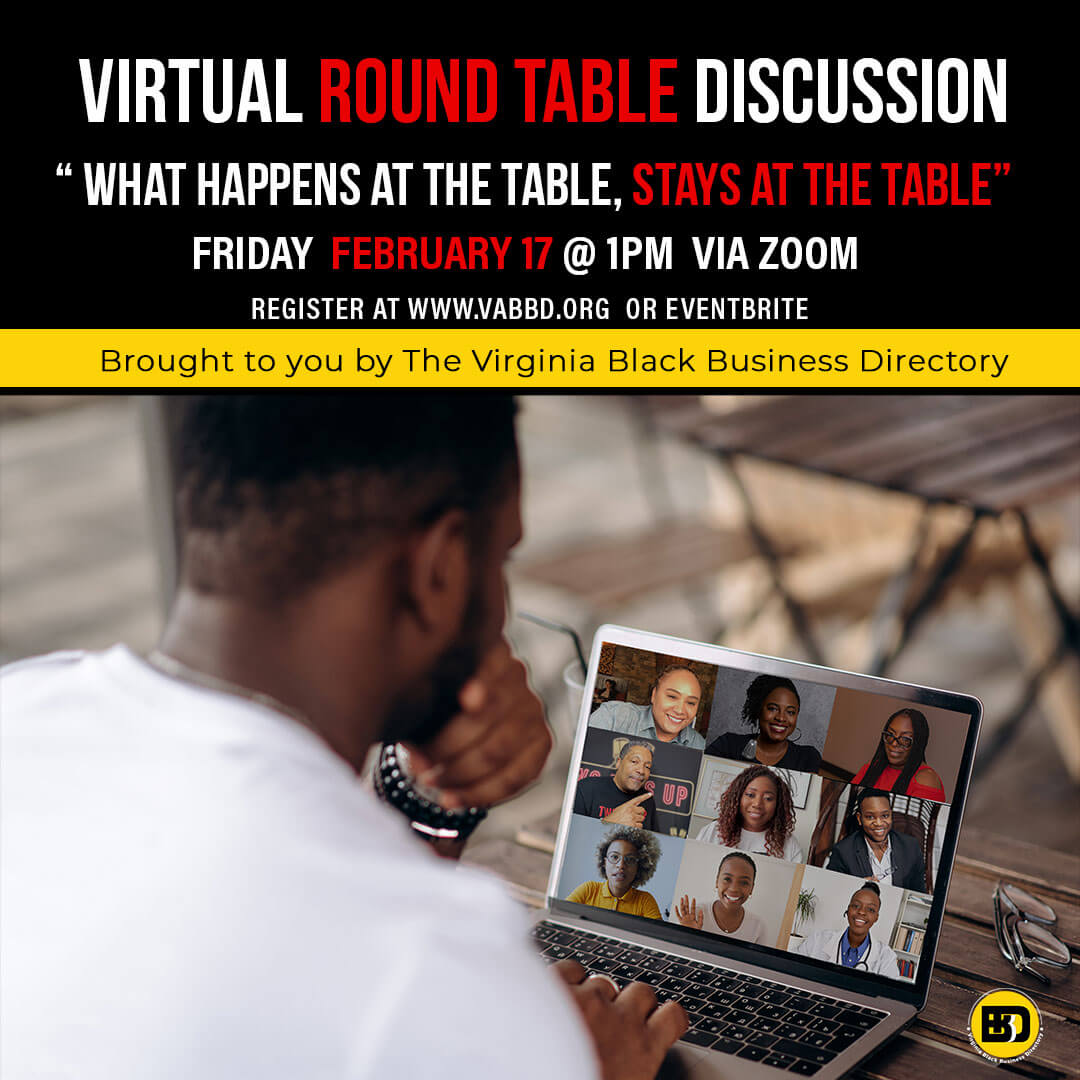 We Joined Together For Our Friday Afternoon Tea Series to Discuss the Ups and Downs of Black Entrepreneurship. It Was an Exclusive Conversation, Just for VABBD Members. We Acknowledged That Black Businesses Strengthen Local Economies, Generate Job Opportunities, and Help Close the Racial Wealth Gap - But Also Acknowledged the Challenges of Running a Business. We Shared Our Experiences to Uplift and Support One Another - What Happened at the Table Stays at the Table!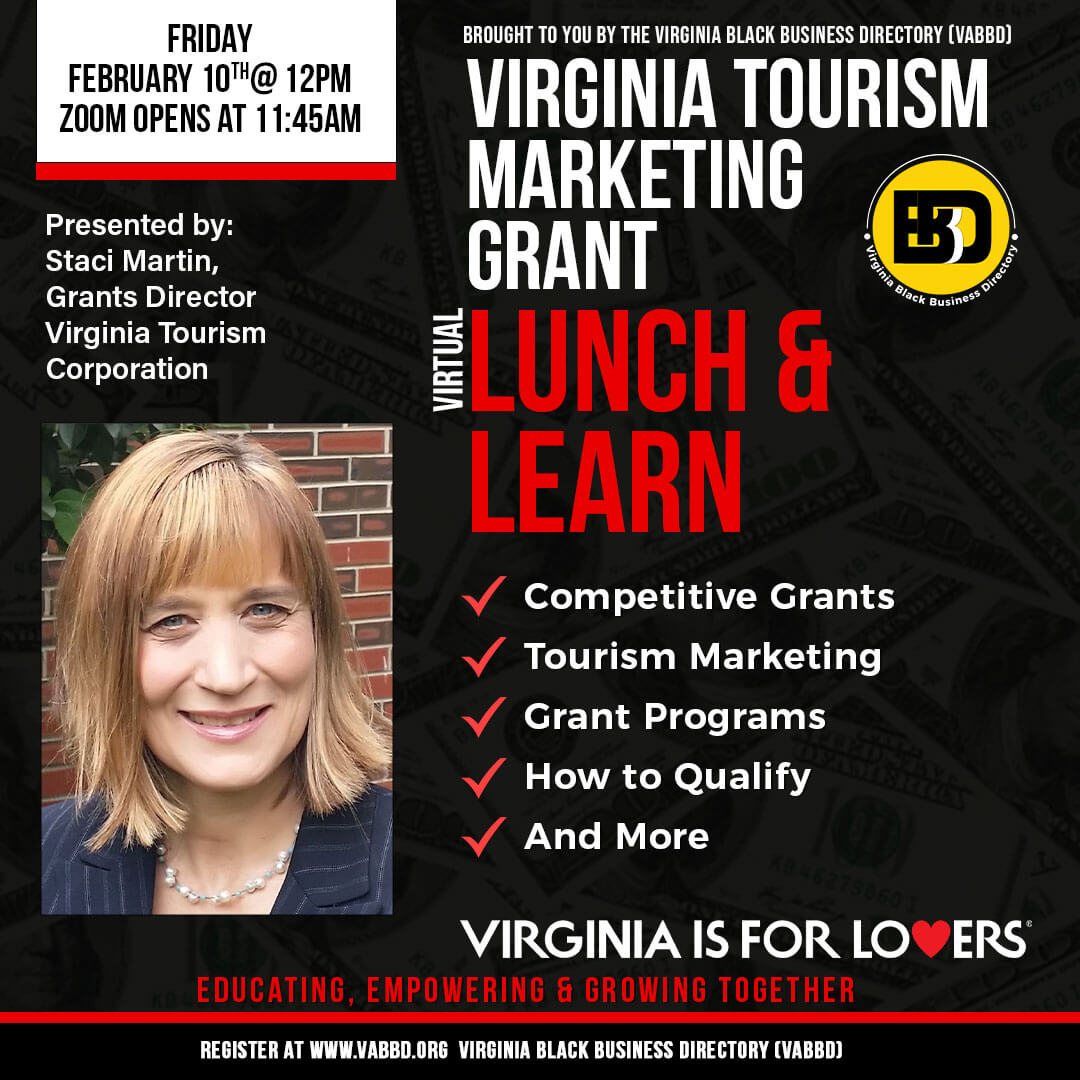 Lunch & Learn: Virginia Tourism Marketing Grant
Partnerships Maximizing Virginia's Tourist Potential Are Essential.
If You Are a Tourism-Oriented Business, You Might Have Qualified for a Virginia Tourism Corporation Marketing Grant.
These Competitive Grants Could Help Reach New Target Markets. We Joined Together for an Overview on Tourism Marketing and the Grant Programs That Were Open Until February 28, 2023. Presented by Staci Martin, the Partnership Marketing Grants Manager at Virginia Tourism Corporation and Former Senior Destination Development Specialist in the Coastal Region, Focused on Entrepreneurial Development, Marketing, and Partnerships; She Worked With Localities, Businesses, DMOs, and Non-Governmental Organizations on Strategies to Diversify Revenue and Jumpstart the Tourism Economy Through Their VTC Grant Programs.
The Art of Code Switching
This Conversation Also Included Perspectives on How Code Switching is Used in the Black Business Community.
We Joined Together to Have an Open Discussion About the Art of Code Switching. We Explored the Reasons Why People Code Switch; From Shifting or Manipulating Behaviors to Appealing to a Different Crowd or Audience, to Professionalism and Adapting Properly to the Current Situation.
Lunch & Learn: SWaM Certification
This was a Vehicle to Promote Economic Growth of Virginia's Businesses. Becoming SWaM Certified Was Just the First Step in Doing Business With the Commonwealth.
We Encouraged Small Business Owners Who Wanted to Participate in Virginia's Specialized Procurement and Contracting Opportunities to Become SWaM Certified. This Workshop Covered: The SWaM Certification Process, Required Documents Needed to Apply, How to Use the Certification to Do Business With the Commonwealth, and an Introduction to eVA, Virginia's Online Procurement Portal.
Ramain Gohar, Business Service Manager at Virginia SBSD Presented; He Specializes in Small Business Consulting and Helping Clients For Five Years Prior Joining State of Virginia, Where He Had Been a Business Consultant with Arizona and New Mexico Small Business Development Center.
Vision Board Workshop: New Year, New Intentions
A Brunch & Vision Board Workshop that Included a Brunch Buffet, Unlimited Mimosas, Door Prizes, and Networking.
Shondella Murray Presented the Workshop 'New Year, New Intention', a Guide on How to Set an Intention for 2023 Instead of Resolutions. Participants Engaged in Self-Reflection and Word of Intention Exercises to Realize What They Had Accomplished, the Lessons Learned from Navigating Challenges, and How to Use All This to Move Forward into a Better Year.
Their Special 'Word of Intention' Inspired Them To Become Their Best Selves or Remind Them of What's Most Important. Participants Then Created an 'Intentional Vision Board' That Brought the WORD to Life Visually and Reminded Them Every Day of Their Intention.
Meaningful Conversations About Stuff that Matters to the Community in a #NoJudgementZone Full of Goal-Getters
A Step-by-Step Instruction on Building a Life-Changing Vision Board.
Lunch & Learn: Trademarking Your Brand
Topics Covered Included What the Process of Trademarking Was, How Much It Costed To Trademark, and What It Protected.
We Presented a Webinar and Q&A to Discuss the Benefits of Trademarking. Jazmin Mullen-Allen, Esq., Founding Member and Principal Attorney at JMA LAW, PLC Led the Discussion; Learn More About Her at www.jmalaw.org.
Attendees Enjoyed an Amazing Lunch & Learn Session, with a Recorded Copy Being Sent to Registered Participants Afterwards.