Sponsorship Opportunities
Giving Opportunities & Corporate Sponsors are Key
Corporate supporters are key to the Virginia Black Business Directory's mission of empowering, educating and sustaining Black business owners. Thanks to generous contributions from corporations all across our great state, we're able cultivate success in this vital community every day!


Virginia Black Business Directory (VABBD) offers a great opportunity for corporate sponsors to make a positive impact in our local community and be part of an initiative that is striving to bridge the racial wealth gap, advance economic development, and promote social equities of black business owners.
Through VABBD's initiatives and programs, such as Business Education, training and development, Professional Networking and relationships building, The Virginia Black Business Expo and Conference, VABBD Business Accelerator Program, Black Business Directory with over 1200 businesses listed, corporate sponsors can amplify the exposure of small businesses while making sure limited resources are navigated efficiently. As a corporate sponsor with VABBD you'll also have access to exclusive networking & relationship-building opportunities that could bring invaluable rewards to your business.
Join hands with us today & be part of something extraordinary that promises to boost the economy while ensuring low-income communities thrive socially & economically through equality. By joining us in this mission, we will be able to grow and become a powerful beacon of hope for small businesses in your community.
20% of our members report being Veteran Owned
70% of our members are Women Owned
8% of our members report being LGBTQ+ Owned
The reported average annual gross revenue reported is between $50,000 - $100,000
36 members reported an annual revenue of over $250,000

The Rewards of Social Media
Social Media is a vital tool for our organization and we use it to connect our members, consumers, business owners and the community. When the pandemic disrupted the physical market place, many businesses decided to pivot to ecommerce platforms with an increase in digital marketing efforts. According to recent data by SCORE, 77% of small businesses use social media to amplify visibility, facilitate customer service and increase revenue.
Our Social Media Impact
3.2K+ Mobile Downloads
43K Impressions on Apple
412K Facebook Page Reach
210K Instagram Page Reach
21.8K Social Media Followers
39.K Website Sessions
5.1K Email Subscribers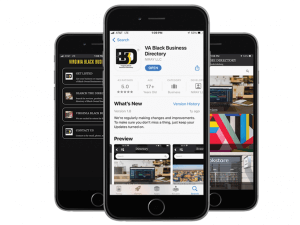 Supporting Black-owned businesses throughout the year can help stabilize a community and create more opportunities for meaningful savings, property ownership, credit building, and generational wealth. It is important to be intentional about providing support beyond the holidays and throughout the year. - Farmilo, B., 2022 (Score)
540 Party Bus
AK Expressions
360 Photo Booth
B101.5
Crazy 4 Gaming
Fredericksburg Economic Development Authority
Fredericksburg NAACP
G3 Community Services
Hidden Voices
Joyous Moments
NIRAY LLC
N&N Exotic Transportation
Residence Inn Marriot
Riddick Entertainment & Events
Shoe Crazy Wine
Stafford Economic Development Authority
NAACP
Transurban
Tusk
Vinegar Hill Magazine
Virginia Partners Bank
Virginia Tourism Corporation
Walmart
Wegmans
Become a Sponsor or Make A Donation Today!
If you wish to make a donation or sponsorship the preferred method is through: